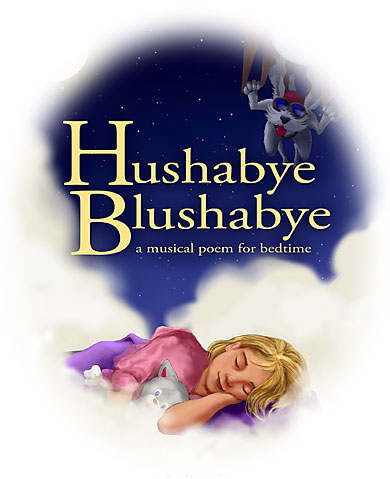 | | |
| --- | --- |
| Hushabye Blushabye Book ($10 + shipping) | |
| | |
That's right!
After so many people told us that Hushabye Blushabye would make a "totally awesome children's book," we finally did something about it!
During a recent sabbatical, Andy (an art professor at Bethany Lutheran College in Mankato, MN) illustrated a children's picture book based on Hushabye Blushabye, the lullaby recorded for the Divers' third album, Walkies in the Park.
If you want, you can preview a sample page from the book! It looks like this, but a whole lot bigger: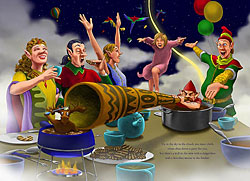 We humbly suggest that this book would be perfect for those hard-to-find gifts for baby showers, expectant mothers, or desperate parents searching for a bedtime story that's actually fun to read! Consider it also for the upcoming Holiday/Easter/Valentine's Day/Reformation/President's Day gift-giving season!
Play the CD while you read for a true multi-media experience!
If you don't have a copy of the CD, the book includes the address for a web site where you can download the song for free(!).
Prices!
Hushabye Blushabye is a 16-page paperback measuring 9"x13". Copies are on sale now for $10 per copy (plus $3 extra for shipping).
Please e-mail Andy at andyo at blc dot edu* if you have any questions.
* E-mail addresses are written this way to reduce spam, substitute @ for at and . for dot.
Please remember:
Text and images © Copyright 2005 Peter Bloedel and Andrew Overn. All rights reserved.
Music © Copyright 2005 by the Divers. All rights reserved.